We offer an integrated approach to marketing – our comprehensive tool box of methodologies cover the broad range of analysis starting from the brand equity and consumer segmentation analysis and going to product development and company repositioning strategies and techniques. Our unique strength is academic quantitative methodologies applied to business problem solving.
OUR APPROACHES AND FRAMEWORK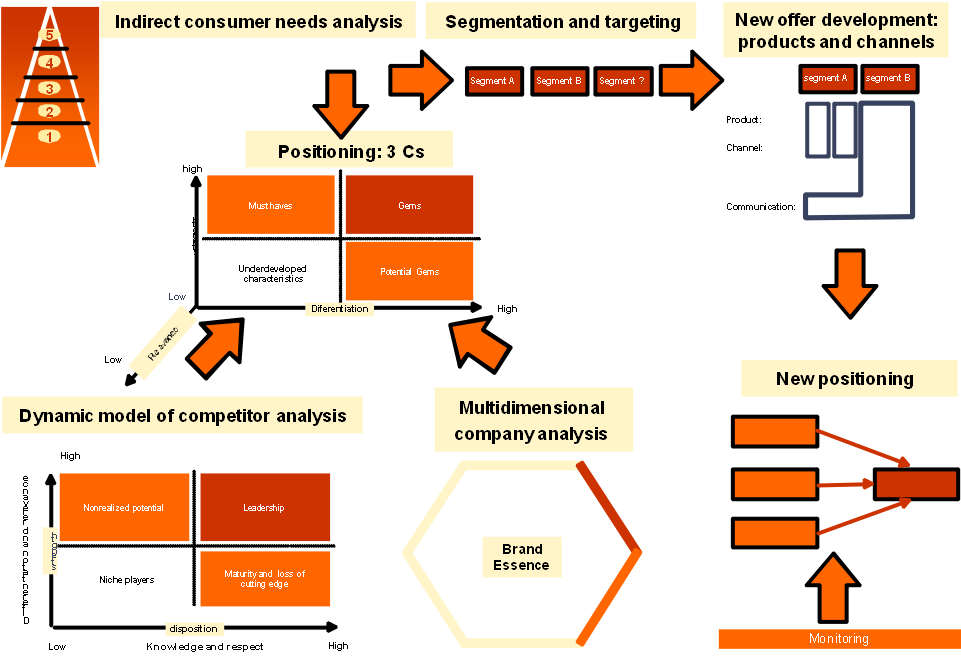 Product Dynamics is a conjoint based product analysis and development tool that generates a lot of interest from banking industry. The tool can be distributed as an annual subscription based index, which will lead to a stable stream of revenues; In addition to that it has proven to be effective "teaser" for generating large comprehensive product portfolio optimisation projects.
Product Dynamics is an efficient instrument for financial products development, accounting for consumer preferences and competitive behavior.
Product Dynamics is an applied analytical model, which combines multivariate estimations of consumer preferences and the description of market products. In this way, it reflects the nature of the product choice out of the offered competitor set.
An opportunity to take into account consumer preferences, competitors' behaviour and company's product development opportunity in a single model.

Flexibility, adaptability and forecasting opportunities.

Reliability of the estimates due to the quantitative nature of the analysis

.
Product Dynamics enables to:
compare your own products to competitors' products (based on quantitative data, such as share of consumer preferences for each product) ;

estimate the relative importance of each product parameter influencing consumer choice ;

develop optimal product structure (including pricing) ;

test new products before launch and estimate product potential and cannibalization patterns ;

forecast the results of potential competitive activity.
The tool provides additional opportunities: consumer segmentation development based on the underlying consumer preferences;
Currently the tool has been applied to retail banking for the following lines of products: current accounts, deposits, mortgages, cash loans, credit cards, car loans, small business loans.
In the past the tool has been applied to retail insurance and telecoms.

The tool can be used to understand consumer and competitors' behavior in any consumer facing industry with a complex products and can be easily extended to new geographies (e.g., telecoms and insurance)

.
Industries and products covered
Opportunities with Product Dynamics